A Church Near You is the Church of England's church-finder tool. Each parish church has A Church Near You profile where they can add service times, contact details and more.
Recently the A Church Near You team has made eight improvements to the site, based on feedback from users.
1. Editor view
Users said: It's sometimes hard to tell what the visitor can see compared to what the editor can see.
ACNY did: Separate editor view area, access it by clicking the single 'edit page' button on your church's menu.
2. Events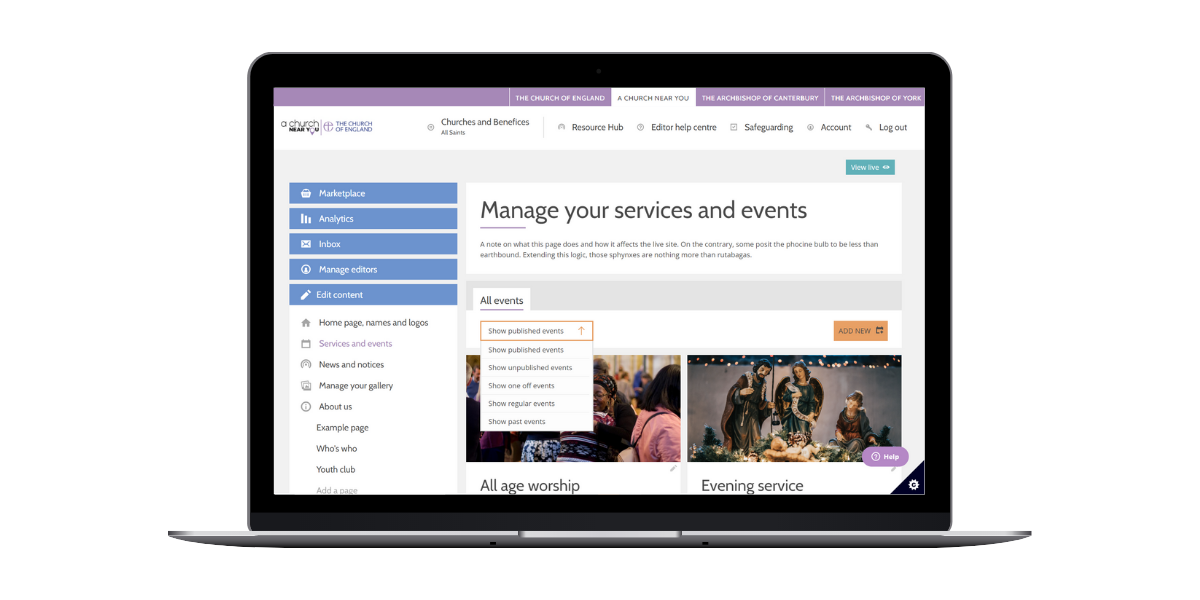 Event tabs
Users said: Some visitors don't realise there are separate one off and regular event tabs, I end up trying to use workarounds to get all my events on the first tab.
ACNY did: An 'all events' tab, with ability to filter to just see one off and regular events, if you want to.

Event order
Users said: It doesn't make sense to me the order that events appear in.
ACNY did: Order is set to be calendar order, with regular events occurring once, on their next occurrence.
Adding an event
Users said: I find the event duration field confusing, I'd prefer to think in terms of finish time. Also when I miss a required field at the moment it's hard to see which field I have missed. And sometimes the help button overlaps the save button.
ACNY did: They now ask for event finish time, not event duration. There are specific error messages if you miss a mandatory field, so you can easily see which you have missed. There is more padding around the help button so that it does not overlap any other buttons.
3. News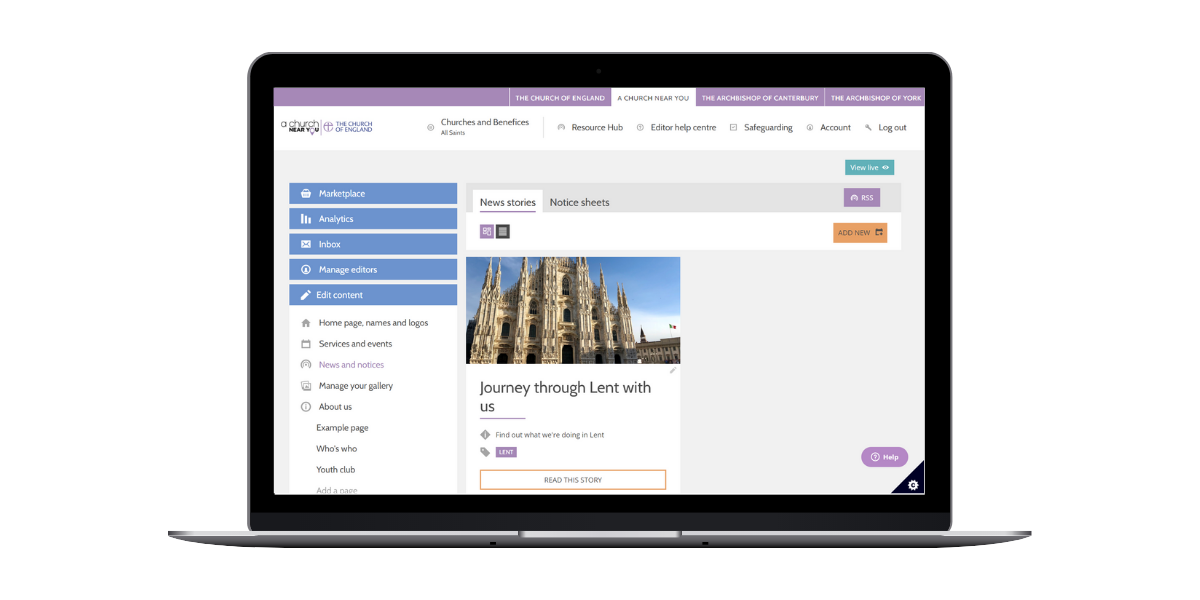 News article order
Users said: It doesn't make sense to me the order that news articles appear in.
ACNY did: Order is set to published date order, most recent first.

News article publish dates
Users said: People think the publish date is the date of the event I am sharing news about.
ACNY did: Publish date no longer visible to visitors.
4. Church homepages
Featured news and event
Users said: Visitors don't realise they can click an arrow to see more news and events.
ACNY did: Made the button on the featured items bigger and wrote 'See all' on it.
Analytics
Users said: I'm not sure if the visitors can see the analytics info that I can.
Users did: Moved analytics information to the new editor view.
YouTube
Users said: I am putting lots of my services on YouTube.
ACNY did: Added an option to list your YouTube channel along with the other social media links.
5. Removed features
Crockford panel under 'More information'
Users said: The information in the Crockford panel is sometimes not correct, especially when a church is in vacancy. This is misleading to visitors and takes time and effort to resolve.
ACNY did: Removed the Crockford panel.
Please note: You can still provide clergy details on the Get in touch page, or on a new page under About Us. The National Register of Clergy is updated daily to show which clergy are authorised to carry out ministry in a church.
Online Service Register
Users said: The Online Service Register doesn't seem to behave in the way I need and I have trouble retrieving older data from it.
ACNY did: They've temporarily removed the Online Service Register for a review and development. I
6. Tags in the Facilities section
Users said: Is this feature working as it is supposed to? It says you can expand the tags but nothing happens?
ACNY did: When a tag has a description, it is visible by default, you don't have to click to expand anything.
Please note: When tags did not expand in the past, or when they aren't showing any extra information now, it's because no extra description was/is present. To add descriptions, go to the Facilities section in editor view.
7. Editor help centre
Users said: As a new editor, I didn't find out about the editor help centre for a while!
ACNY did: Made the editor help centre more prominent, adding it on the top menu that appears to all editors.
Users said: Sometimes the articles on the editor help centre are a little confusing or not fully up to date.
ACNY did: They have rewritten nearly all the articles to reflect the latest improvements and improve clarity. These will be published at the same time the eight improvements to the main site go live.
8. Access

Login button
Users said: Sometimes visitors to the site see the Login button and think they have to log in just to use the site.
ACNY did: Login button now says Editor login.

Becoming an editor
Users said: Becoming an editor on the site is not as straightforward as it could be.
ACNY did: The approval process hasn't changed but the journey it is better signposted and explained on screen at every stage, and you get emails to explain where you are in the process.
Please note: They hope to be able to make it even simpler in the future.
If you don't see the thing you wanted on the list, do take a look at our updated roadmap which explains what's coming next.
Join a webinar
For a walk-through of the changes on ACNY, join this 45-minute webinar, which includes a live demonstration and the opportunity to ask questions.

This webinar has daytime and evening sessions, and includes live captioning. A recording of the webinar will be sent to registrants after the date.