From the 15th to the 21st of June, the Bishop of Coventry, the Right Reverend Dr Christopher Cocksworth travelled and toured Armenia with Bishop Hovakim Manukyan, the Primate of the Armenian Diocese of Great Britain.
Bishop Hovakim and Bishop Christopher had their first encounter on a telephone call in October 2020. At that time Armenia was in conflict with neighbouring Azerbaijan over the area, Nagorno-Karabakh. Bishop Hovakim celebrated the eucharist in St. Minas Church in Nagorno Karabakh (Artsakh) for the last time. In the car travelling back Bishop Hovakim had a telephone conversation with Bishop Christopher and asked for his prayers at that difficult time. Since then, Bishop Christopher and Bishop Hovakim have maintained their friendship. On Saturday 24th April 2021, Coventry Cathedral hosted a remembrance service for the 106th anniversary of the Armenian Genocide. This ceremony represented the future of friendship between the nations, a response to God in reconciliation and a commitment to justice.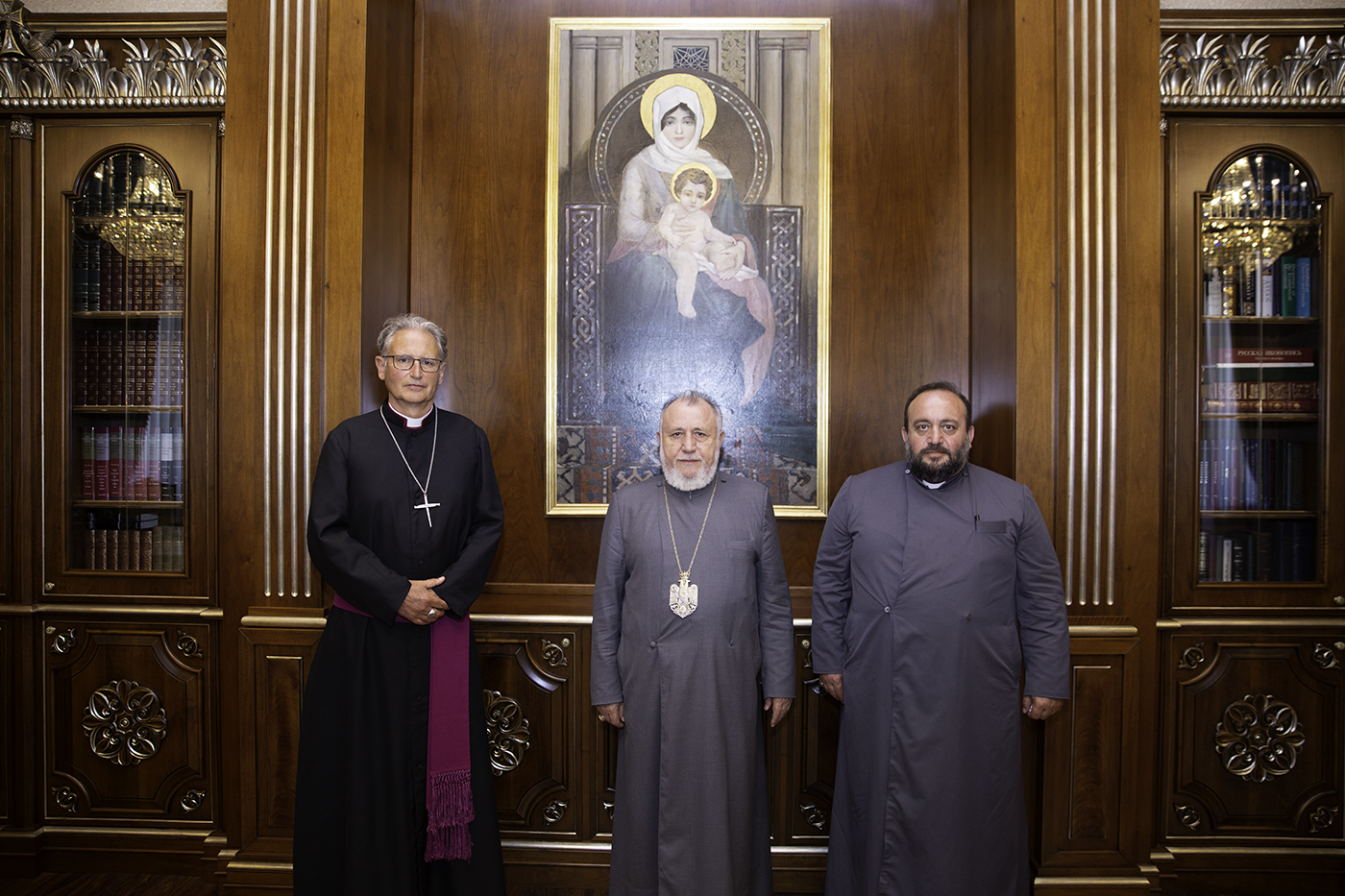 Bishop Christopher, His Holiness Karekin II, Bishop Hovakim Manukyan
During the trip to Armenia, Bishop Christopher was hosted by His Holiness Karekin II, Supreme Patriarch and Catholicos of All Armenians, to the Mother See of Holy Etchmiadzin. His Holiness particularly expressed his appreciation to the Bishop of Coventry for his support to the Armenian people in this difficult period, especially the efforts made for the release of Armenian prisoners of war and protection of Armenian sanctuaries.
Bishop Christopher and Bishop Hovakim visited many places on the trip including; an Armenian Youth Centre, the Tsitsernakaberd Armenian Genocide Memorial, the Izmirlian Medical Centre, and to the villages Khtsaberd and Khoznavar on the Armenia-Azerbaijan border where the residents talked to them about their concerns and wish for peace.
Read more about the trip on the Diocese of the Armenian Church website.