On Wednesday 29th April, the Hope Hub opened at St Laurence's Church.
Following extensive listening and conversations with various partners, plus help from funders & supporters volunteering their time; the team at St Laurence's Church have worked together to create an emergency hub based at the Church Hall to support those in need of extra help during COVID-19 in the Longford ward, which includes the communities of Alderman's Green, Bell Green, Courthouse Green & Longford.
The offer is focused around 3 core needs they have identified: Emergency Food Parcels, Emotional Support & Safe Place. They are approved to issue foodbank e-vouchers to those who qualify and fulfil delivery of emergency parcels through a simple, referral-to-doorstep contactless delivery system.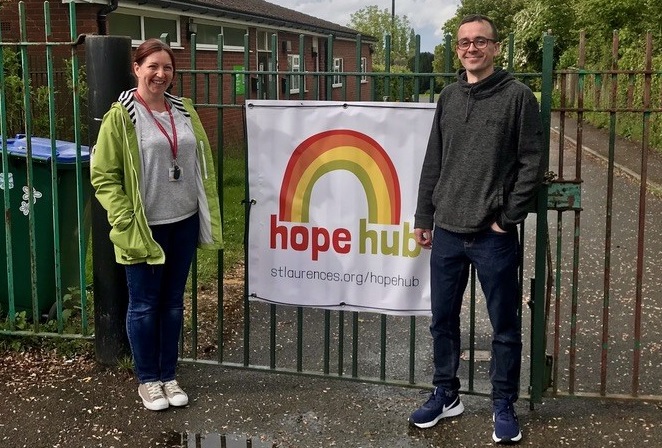 The Revd Gareth Irvine, Vicar of St Laurence's Church says:
"We've been so encouraged by the response already from our community to come together during this unprecedented and unsettling period of lockdown caused by the coronavirus pandemic.
In the history of pandemics, the church has often stepped up to support and care for those most affected through showing mercy, compassion and generosity in people's time of need. We are overwhelmed and humbled by the support we have already received from our partners Coventry Food Bank & Coventry City Council; together with generous funding from Godiva Lions, Severn Trent & the Heart of England Community Resilience Fund. We have already sourced well over £6000 worth of resources – which is quite amazing!
If you or someone you know needs help right now – please don't wait, please reach out – your community stands ready to help."
You can read more about how the team are working and make direct referrals or requests for individuals or families at their dedicated Hope Hub website: stlaurences.org/hopehub or by telephoning 02476 668231.
The Hope Hub opened on Wednesday 29th April at 2.15pm and deliveries started straight away. The opening ceremony was livestreamed on the Hope Hub website and on the St Laurence's Facebook Page and is available to watch.