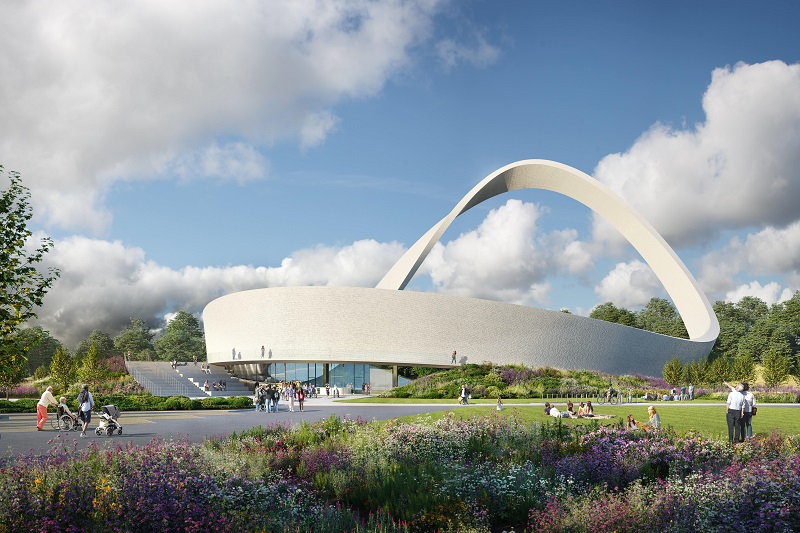 A new Christian landmark is to be built in the Midlands. Eternal Wall of Answered Prayer will be a huge, thought-provoking piece of public art, aiming to kindle conversations about prayer.
The iconic structure will be constructed using one million bricks, each brick featuring an answered prayer. This Christian landmark will make hope visible by digitally linking visitors with a database of one million answered prayers, using interactive technology and a bespoke app. Visitors will be able to use their smart device, holding it against any brick to read the individual answered prayers.
Built near Coleshill on the outskirts of Birmingham, Eternal Wall will stand at 169 feet, eclipsing the size of the Angel of the North, and is expected to attract 300,000 visitors each year. 500,000 journeys will see Eternal Wall every week from the M6, M42, HS2, and flight paths from Birmingham Airport.
The idea of the Eternal Wall project is to grow a nation of storytellers who are able to articulate the hope they've found in God through sharing answered prayers – whilst the physical landmark will be in the Midlands, the stories of hope will be accessible via the app from anywhere in the world. The core aim is to Make Hope Visible in the UK and further afield.
The Eternal Wall project are reaching out to UK churches to help them gather answered prayers. You may already have many as a congregation which you could submit, and/or you may have someone in your congregation able to help facilitate gathering more. They are looking for representation from every part of the UK and every church network. These can be submitted any time on their website at https://www.eternalwall.org.uk/testimony (written, video or audio are all invited), but they are also holding a 45 minute zoom on Monday 4 April in the early evening to share more about gathering answered prayers on a larger scale.
If you would like to join them to find out more about the project and the process of gathering answered prayers everyone is warmly invited. Drop them a message on volunteer@eternalwall.org.uk to register your interest.