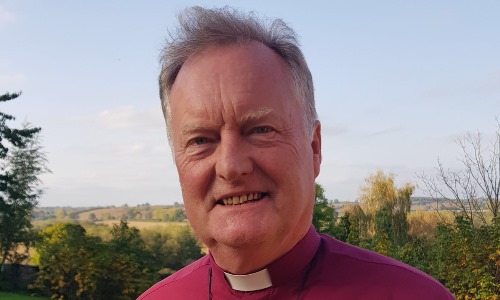 We can officially announce that The Bishop of Warwick, the Rt Revd John Stroyan, will be retiring. Notice of his intention to retire has now been accepted by the Archbishop of Canterbury and His Majesty King Charles III. Bishop John will be stepping down on 7 August 2023 after more than 18 years in the role.
There will be more details to follow. In the meantime, please make a note of his farewell service at Holy Trinity, Stratford-upon-Avon on the Wednesday 12 July at 7:30pm, all are welcome to attend.
Bishop John says:
"Coventry Diocese has played a huge part in my journey of faith and ministry beginning with my ordination as Deacon by the Bishop of Warwick in 1983. In 40 years of ordained ministry, I have spent 22 years in this Diocese. I had the enormous privilege of serving as deacon and priest in the parish of St Peter's, Hillfields in Coventry and looking after St Alban's, the neighbouring parish, in its vacancy. After seven years in inner city ministry in Birmingham diocese and then 11 years in a multi-parish benefice in north Oxfordshire and as Area Dean, I was invited by Bishop Colin in 2005 to become Bishop of Warwick. I have loved my time in the diocese, sharing ministry with many inspirational people both ordained and lay. I have particularly appreciated the rich mix of parishes, rural, urban and suburban, and the wonderful diversity of communities. I have valued also the international dimension of CCN partnerships and our diocesan links with the Holy Land, Kaduna and, most recently, with the Diocese of Kapsabet. I am immensely grateful for all that God has given me through so many people in the diocese, in the churches, chaplaincies, schools, Cathedral and beyond. I thank you all for sharing as pilgrims together in our journey of faith. It has also been an honour to have been invited by Archbishop Rowan and, more recently, Archbishop Justin, to represent the Church of England in the International Commission for Anglican-Orthodox Theological Dialogue for eight years and subsequently to co-chair the Anglican dialogue with the French Protestant Churches. I was privileged also to be invited by Archbishop Rowan to visit Church and other faith leaders in Syria in 2007 and later represented Archbishop Justin in Jerusalem. All this has much enriched my time as Bishop of Warwick for which I am most grateful to God."
Bishop Christopher says:
"Coventry Diocese has been greatly blessed by the ministry of Bishop John. It's here that he began as curate and it's here that he has served so faithfully as Bishop of Warwick over the last 18 years. Like countless others, I have richly benefited from Bishop John's support in a myriad of ways and I have been touched by the holy, gracious presence of God through his example of loving ministry and deep prayer. It will be hard to say our farewells to Bishop John on 12th July when we gather at Holy Trinity, Stratford but we'll all be comforted by knowing that he'll remain close to us not only in heart but nearby in presence just over the border of the diocese."
Bishop John was invited to preach at the Chrism Eucharist in Coventry Cathedral. You can read his sermon here.