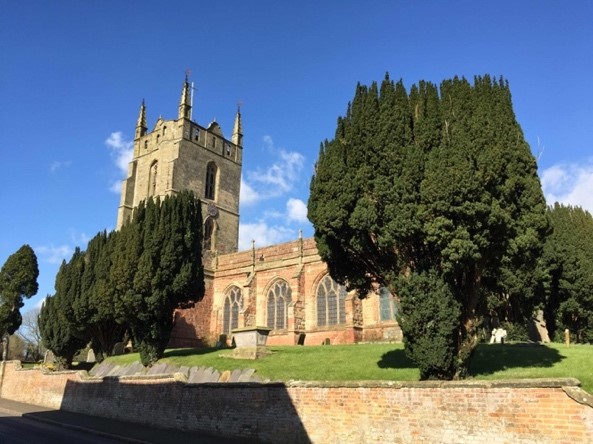 St Edith's Church in Monks Kirby has good reason to celebrate, as it has received a £59,229 grant from The National Lottery Heritage Fund, made possible by money raised by National Lottery players.
The much-needed funding now means church members can proceed with the urgent stonework repairs to the pinnacles on the church tower. Work is expected to start in early July.
Alongside the repair work, the Heritage Fund has given funding for a number of heritage engagement activities (both digital and in person) which all celebrate the 'architectural gem' that St Edith's Church represents. The range of planned activities were inspired by local villagers who gave suggestions about how they would best like to explore St Edith's unique heritage.
The celebration officially kicks off on Sunday 10th July between 2.00-5.00pm with a free-of-charge open afternoon and tea party which St Edith's Church. During the open afternoon, visitors will also be able to help make a replica LEGO® model of St Edith's Church which has been specially commissioned as part of the celebrations and will comprise over 15,000 LEGO® bricks! People will also be able to explore the church using a newly refreshed family heritage trail, try out bell-ringing, see some of the newly-developed digital and hard-copy heritage interpretation products, whilst listening to a short musical performance given by The St Andrew's Community Choir.
St Edith's Church is a Grade I listed building, located in Monks Kirby (one of the Revel villages) near to Rugby, Warwickshire. It is the largest parish church in Warwickshire, measuring approximately 110ft by 50ft. The first church on the site of St Edith's is said to have been founded in 917 by Ethelfleda, daughter of Alfred the Great. However, the current Priory Church of St Edith's dates from 1077, when Geoffrey de la Guerche, a Breton knight rebuilt the church.
Commenting on the award, Patricia Barnett, a church representative, said:
"We are thrilled to have received this support thanks to National Lottery players.The funding allows us to carry out urgent repairs to the church pinnacles on the tour. It also gives us an opportunity to engage people of all ages with the diverse heritage that St Edith's has on offer. This means local people will be able to have lots of fun exploring the church in person and through a range of new digital products. We will also have the chance to create a long-lasting recording in the form of a bespoke LEGO® model of the church. We are grateful to the Heritage Fund, Trinity College Cambridge, Coventry Diocese and the Warwickshire and Coventry Historic Churches Trust who have all supported us financially."