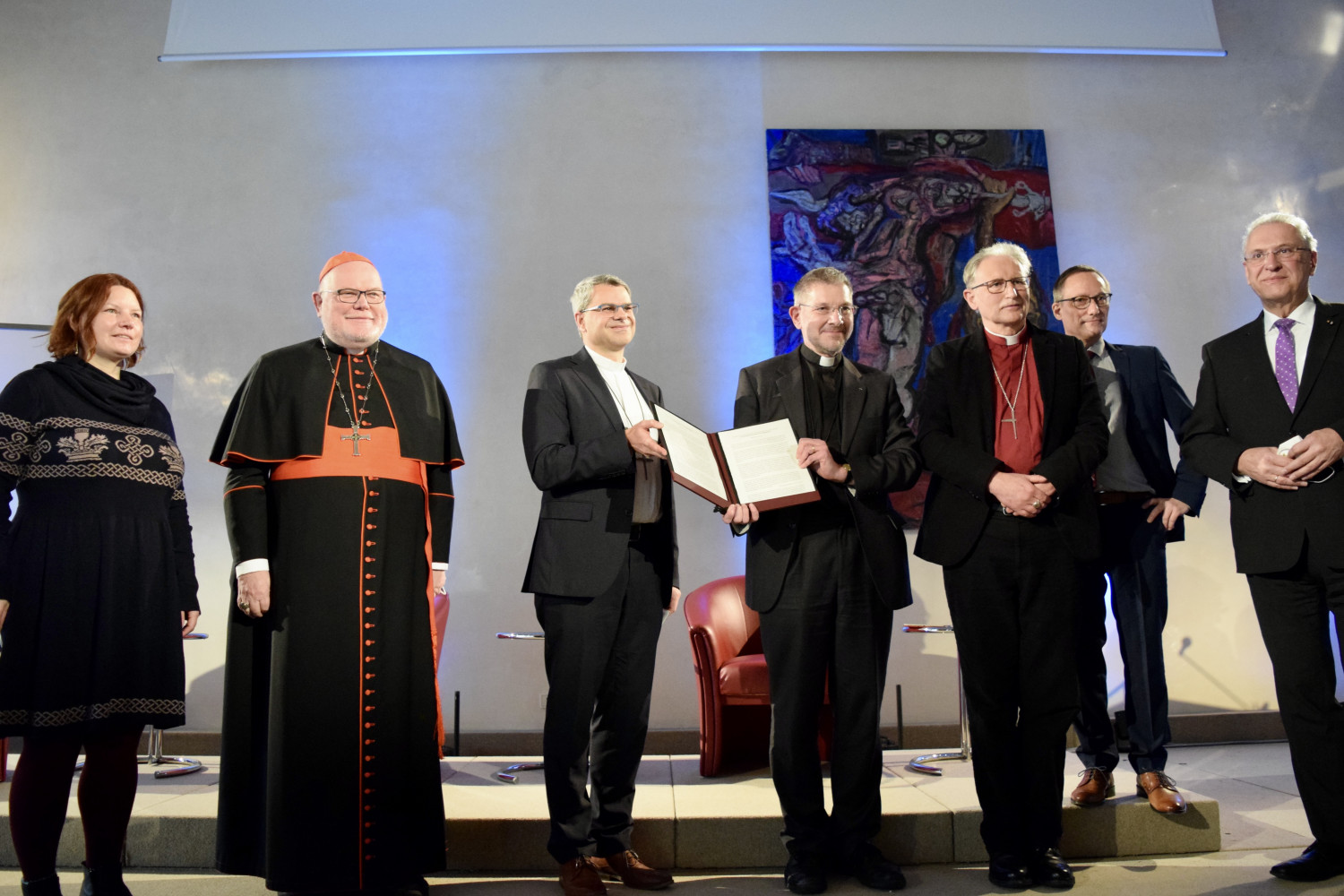 At a ceremony on December 11th 2021, the Coventry Community of the Cross of Nails (CCN) was awarded an 'Ecumenical Prize' by the Munich Katholische Akademie. The prestiguous award, which recognises the Community of the Cross of Nails' transformative work in worldwide reconciliation, but especially within Germany, was accepted by the Dean of Coventry, John Witcombe. It will enable the CCN to further expand its mission, particularly with young people. Representatives from the German Community of the Cross of Nails, including chairman Dr Oliver Schuegraf, were present to convey the story of the CCN and its work through different churches and institutions in Germany, including, closest to Munich itself, Dachau Concentration Camp. Reinhard Caridal Marx, the Archbishop of Munich and Freising and a previous recipient of the prize (in conjunction with Lutheran Bishop Heinrich Bedford-Strohm) was also present to share his appreciation for the work of the CCN. Bishop Christopher contributed a lecture entitled 'The Messsage of Coventry in Europe Today', which you can read here. The event concluded with the Coventry Litany of Reconciliation.
The afternoon saw Bishop Christopher take part in a panel discussion entitled 'A Culture of Remembrance' together with Dr Schuegraf and Professor Aleida Assmann.
You can watch the full event here.
On the previous evening an Ecumenical prayer service was held at St Barbara Kirche in Munich, a former garrison church and now member of the Community of the Cross of Nails. The service was led by Cardinal Marx, Dean John and Bishop Christopher.